Whilst I love the social nature of facebook for Pro-Wrestling fans, social feeds can be obliterated by incredibly boring and factually incorrect statements. Whilst I love opinion in wrestling, I'm here to blow up some of the ridiculous, hopeful, mindless comments that I keep finding on the wrestling airwaves.
Vince McMahon is "past it"
This one is always a laugh to see. Whilst I agree that McMahon can magically overlook a couple of superstars such as Dolph Ziggler, Cesaro, Sami Zayn, John Morrison and, arguably, Dean Ambrose, he sparked the fire for many of our favourite superstars. Take, for example, CM Punk. Vince didn't have to hand him the title in Chicago, nor did he have to give him TV time with Vince himself. Vince certainly did not need to give him the championship heading into Wrestlemania, and he most definitely did not need to give him a title run of 434 days.
Ohh, and by the way, he runs a billion pound industry…
Shawn Michaels will wrestle one more match.
Before last year's Royal Rumble rumors circulated that Shawn Michaels was to face AJ Styles, and it was later confirmed by Michaels that he was asked to wrestle. So lets bury this guys, if the lure of wrestling AJ Styles isn't enough for Michaels then we can safely assume that he is NEVER wrestling again.
Roman Reigns can't wrestle.
Fans who simply state that Roman Reigns can't wrestle, aren't watching his matches. In the past couple of years Reigns has had a series of overachieving matches with a very green Braun Strowman, a great triple threat with Lesnar and Ambrose, a great WrestleMania main event with Lesnar, and classics with Daniel Bryan and Seth Rollins, AJ Styles, and Kevin Owens. Roman was not "carried" in these matches, but provided a high level of wrestling that would pass in any era.
John Cena is a burial machine.
For those of you who may not understand, this is how wrestling works.
You have your lower card, your mid-card, your main event talent, and then your megastars.
Only 2 or 3 men can be considered megastars or else you saturate the competition. In other words, it needs to mean something when one of these guys are beaten (see the Undertaker, Brock Lesnar, The Rock, etc).
John Cena is simply put, the biggest Megastar in WWE history so, no, he is not going to be beaten easily, and yes, he should be made to look incredibly strong. But most importantly, he is made to look this way so when somebody beats him it feels special and it feels like a huge achievement for the superstar in question. By beating John Cena Daniel Bryan became an instantly legitimate champion, how Seth Rollins became an instantly credible heel, how Edge's character became instantly loathed, and AJ Styles became instantly known to the WWE audience. Do I need to continue?
Triple H can't wrestle.
Admittedly, Triple H is not the most technically gifted wrestler of his generation. Chris Jericho, the Undertaker, Dean Malenko, Eddie Guerrero, Rey Mysterio, and a list of other wrestlers were, without question, better in that regard. But wrestling is an art form which is not simply "fists and flips" but a form of storytelling. I have never seen anybody tell a story in the ring to the level that Triple H has done since he took on his "game" persona. His matches with the Undertaker, Daniel Bryan, Randy Orton and Shawn Michaels give clear evidence that Triple H is the best story teller in WWE history.
CM Punk will come back to the WWE.
Can the wrestling universe please move on. I'm begging for an edict on CM Punk mentions on Facebook, Twitter, the dirt sheets etc for at least a calendar year. CM Punk will not return to the WWE. End of story.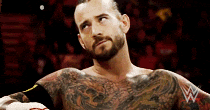 Do you disagree with me? Let me know if you do by following my Facebook page.